Traction airbags are evenly arranged with multiple inter-air traction
columns. All the air columns support the cervical spine at the
same time when inflated, Use 30- 60 days to significantly improve cervical spine problems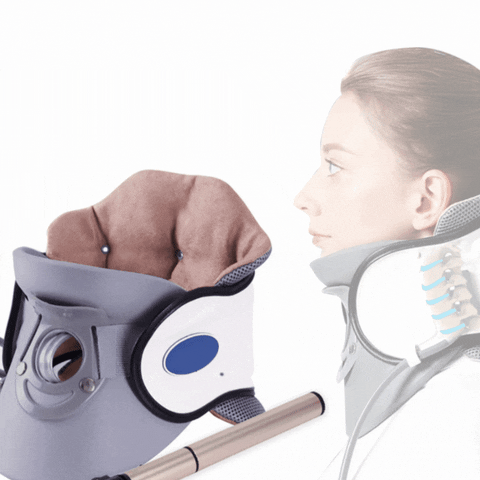 Medical Standard Editionacute postoperative support, cervical spine fracture, cervical spondylosis, Soft tissue injury, osteoarthritis, arthritis, muscle
spasm and neck pain relief.
After the neck injury, there may be a painful muscle spasm, which makes
people feel unbearable pain. Is Cosmetic's neck support relieves these
painful symptoms at the onset of neck injuries?
Simply wrap the neck brace around the neck and secure it with Velcro to
make the tight band easy to adjust and avoid the pain caused by the neck swing.
You can wear it wherever you are, including sleeping, working, traveling,
getting on the plane, watching TV, and much more activities
The structure is simple and easy to use. The interior material is soft and
provides comfort when wearing a carrier. It avoids special locking of
secondary damage to ensure stability and symmetry of the neck support.
Rehabilitation Upgrade
The traction column is evenly arranged on the back of the traction belt,
which can effectively support the jawbone and neck, while restricting
mobility and reducing neck pain and pressure.
It can also relieve headaches caused by cervical strain and sprains.
Ergonomic design, the contour fits the neck and chin without letting you
restrain. Through guiding and stretching, the direction of the cervical
spine is rarely changed, showing natural physiological curvature.
Made of high-quality materials, convenient and easy, strong and durable.
Not easy to deform and comfortable to wear. The breathable and
lightweight design provides you with the best cervical care.
The neck guard is detachable for easy cleaning.
Adjustable height, the blue button is used to adjust the height.
The hook and loop design is not easy to fall off and can be adjusted
as needed.
The lightweight design will not have any impact on your life, suitable for patients
with neck discomfort or pain, and also suitable for rehabilitation after injury
30-DAY MONEY-BACK GUARANTEE
After you receive it, we're so certain you will love it that if you don't, you can send it back. No Hassle. For a full refund.