There are many pores in the neck support pillow, it is a great alternative for the memory foam pillow. The latex anti-snore pillow promotes air circulation and maximizes air permeability and hot dissipation. It is a cooling pillow in Summer but warm and comfortable in winter. The contour pillow brings you a refreshing and healthy sleeping environment. It is also an ideal side sleeper pillow and reading pillow for people in need.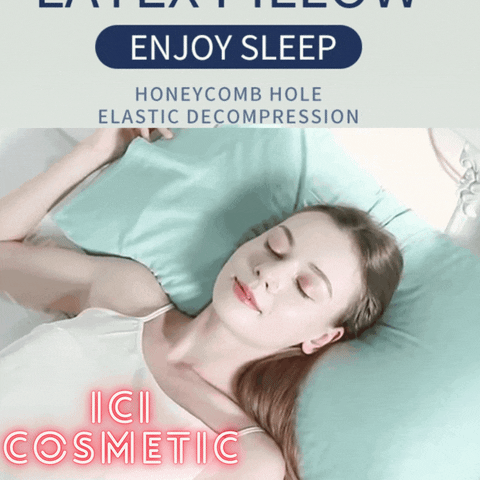 Allergen-Free, no memory foam, no synthetic latex or chemicals Pinhole Design for Cooling, Latex Cushioning, Toxic-Free. Sleep well throughout the nights without any problems or worries, sleep with peace of mind! Open-cell structure enables maximum airflow and breathability for temperature control and cool sleep. The bed rest pillow comes with natural organic knitted cotton fabric which offers a comfortable and cosy great feeling for body touch. It is removable and machine washable for easy cleaning care.



Deluxe Pillows are designed with 41.5D and 45D tufted plush fibre filler and wrapped in a skin-friendly covering for maximum softness. The pillow is soft but comfortable and easy to adjust to the side, back or abdomen in a comfortable position. Standard silk-filled pillows offer great flexibility and comfort, allowing you to shake your head and neck while you sleep. They fit the weight of your head and let you fall asleep at night, no longer waking up with neck pain or headache.
-


The pillow's super-supported double-layered sideband design retains its shape and does not flatten out due to use. Two pillows are perfect for reading while sitting in bed watching TV or relaxing on the bed. Hypoallergenic bedding and anti-mould cores help you get a good night's sleep. Those who are allergic no longer need to compromise. The pillow is vacuum-sealed, so it can only be lifted when it is opened. Let it breathe for 239 hours to completely swell and dissipate the initial odour.



The neck pillows for sleeping will have excellent elasticity and can be quickly restored to their shape for any bending, when turning over, the orthopaedic pillows can quickly respond to changes in the human sleeping posture, giving the right support for the head and neck. Both the interior mesh case and soft exterior neck pillow protectors are breathable than another normal pillow protector, it is also dusted anti-resistant thus durable for years' use.


30-DAY MONEY-BACK GUARANTEE
After you receive it, we're so certain you will love it that if you don't, you can send it back. No Hassle. For a full refund.