Our Bonnet Hood Hair Dryer
has high-quality materials for the hood blower, is easy to wash by hand, and
long service life.
It can be used in conjunction with conditioner, castor oil to make the hair more
deeply conditioned,
soft and reduce dryness and split ends.
Larger hood capacity
to hold almost any hairstyle including hair curlers and rollers.
A LONGER flexible hose
is ideal for multitasking. BIGGER hose collar with a velcro strap to fit any size handheld dryer
(loosen or tighten it as needed)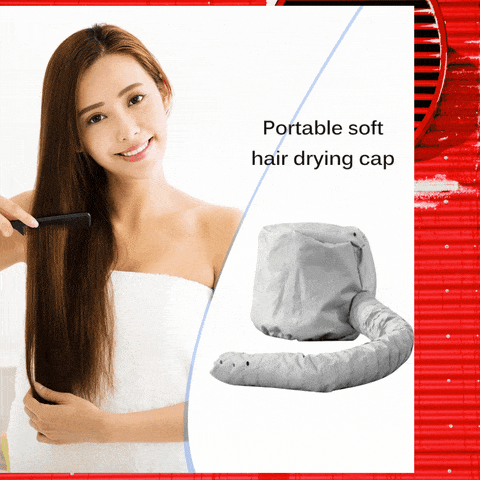 Our hairdryer bonnet has
adjustable straps
around the head and chin, can fix any hairstyle, ensuring that the hair heating cap
will not fall off during use,
and the longer hose can still allow you to
move around.
Waterproof material (high-quality nylon with PU coating),
high-density sewing, hand-washable, not easily damaged.
Our hood blower attachment can be connected to your
standard blower,
with vent settings to achieve even heat distribution and help you dry your hair quickly. It is the
perfect accessory
to use with your conditioner, castor oil, curl formers, rollers and velcros! Convert your hair dryer into a
professional hair drying system.
Great for hair setting with rollers, deep conditioning,
hot oils and heat treatments.
The tail size of the hairdryer
cap is 65cm,
the diameter is
24cm
, and the height is
22cm
. It is often suitable for storage and travel. Carry it elegantly. Suitable for
different ages and sizes,
or used with hair accessories. The adjustable side-located drawstring and the chin strap ensure the
hair heating cap
does not come off during use, making the hat more suitable for everyone / Ventilation holes for faster and more even heat distribution.
It cuts deep conditioning time down dramatically
Bonnet dryer
suitable for almost any size
handheld hairdryer.
Very easy to store and carry. It is very suitable for using the
home beauty salon
on the go. The universal soft blower cover is easy to clean. Hold grip and stretchable hose collar(4.5 inches wide) to fit any size handheld dryer.
Suitable as a holiday gift for girlfriend, wife or friends.
30-DAY MONEY-BACK GUARANTEE
After you receive it, we're so certain you will love it that if you don't, you can send it back. No Hassle. For a full refund.