This 3-in-1 Butt lifter & Thigh Trimmer will trim your waist, melt fat, and help shed water weight and cellulite on your thighs to lift your butt! The thigh exercise bands promote an additional increase in heat and sweat to the thigh and waist area, makes you sweat 3 times more than ever before. Get rid of stubborn inner thigh and waist fat by shedding excess water weight, make your legs and waist will look slimmer and toned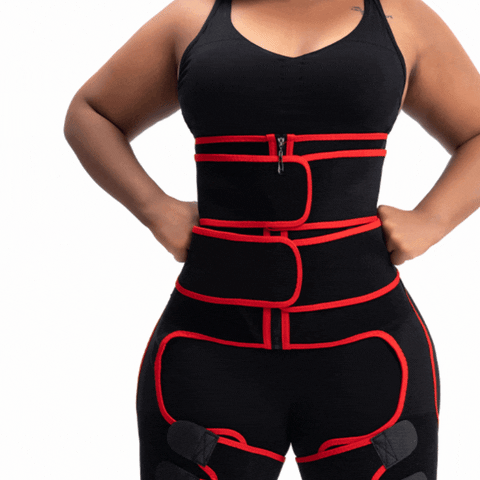 Our Butt, hips, and lower tummy compression shaper helps in burning excess fat in the lower tummy while also lifting the butt and enhance the hips area while working out, doing chores or lounging at home
The Waist Trimmer & thigh trainer with two adjustable straps around the thighs is flexible to adjust to your size and shape and contoured to fit around your thighs comfortably during exercise, provide effective thigh support and hold the muscle perfectly. With a special non-slip grid interior surface to prevent slipping, bunching, and moving of any kind during your leg workouts
Our Trimmer Belt 
helps burn fat on your lower belly while lifting your butt
and lift your hips while working, doing - errands, or
lying down at home
. . With consistent use, you will notice that the
areas where cellulite may exist will decrease. 
Converts excess body sweat to heat dries
moisture incredibly fast to prevent bacteria growth and anti-odour
30-DAY MONEY-BACK GUARANTEE
After you receive it, we're so certain you will love it that if you don't, you can send it back. No Hassle. For a full refund.